The following address was given by Tom Sharp and his daughter Kate Gould on the occasion of the visit to St. Mary's in May 2006 by Bishop Nigel as part of his Pilgrimage around all 386 parishes in the Manchester Diocese.
I believe that Tom and Kate's address completely captures the fact that, although being part of 'Suburbia', Davyhulme is really a big village where generations have lived together, going to school together, going away to University and then returning to the village of Davyhulme to work, marry and raise their children there. This sense of continuity and belonging is one of the great strengths of the wonderful parish of St. Mary the Virgin, Davyhulme, in which we live.
Our Story - God's Story
'Family Connections - Past and Present'
I am telling this story to celebrate the baton of the gospel which has passed within our family through five generations, to my own children who are welcomed into the church community at St. Mary's today.
My family, the Sharp family, originated from Kent and my great-great-grandfather's brother, John Sharp, settled in Davyhulme in 1850. He became a churchwarden at St. Mary's in 1897 and was also the manager of the Church school. He was also one of 12 constables selected to form a guard of honour for Queen Victoria when she opened the Manchester Ship Canal on the 21st May 1894.
My great-grandfather, Thomas Sharp, lived on Bent Lanes, although it must be said that his affinity to St. Mary's Church was not as great as his affinity to the Union Inn, which is now called the Fox and Hounds.
I remember my grandfather, Harold Sharp, very well. He was born in Bent Lanes in 1892 and later lived at numbers 127, 143 and 176 Davyhulme Road. He attended St. Mary's School on Cornhill Road between 1897 and 1902. He was the Superintendent of the Sunday School for 20 years and a member of the Church of England Men's Society. My grandmother, Jane Sharp, was treasurer of the Mother's Union for many years. My grandfather had three bothers and one sister and all four of the Sharp brothers fought in the First World War. One brother, Richard Sharp, was killed in action and is commemorated on the War Memorial in the Church grounds and also on the Davyhulme Cenotaph.
My father Thomas Sharp, was born in 1929 and has lived at numbers 127, 143, 172, 178 and now 186 Davyhulme Road. He attended St. Mary's School on Cornhill Road between 1933 and 1939 and he has been a Lay Reader at St. Mary's Church since 1964 He met my mother, Shirley Bain, at St. Mary's Church, where he spotted her in the congregation and 'set his cap' at her. After a little negotiation she agreed to marry my father and the wedding took place at St. Mary's in 1959.
My mother was a Sunday School teacher at St. Mary's over a period of 30 years, she helped lay the foundation stone to the new Church Hall with Mrs. Bould in 1989, using the same trowel that had been used to lay the foundation stone of St. Mary's Church in 1889. This trowel had been bequeathed to my grandpa by Mrs. Farrell and it was also used to lay the foundation stone for the Vicarage in 1928.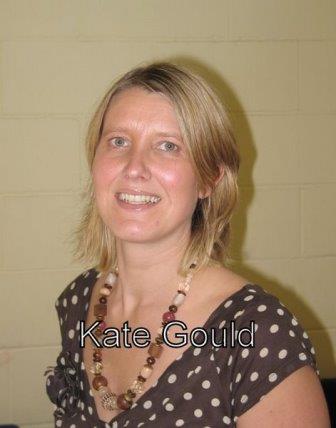 The baton of the gospel has been passed from my parents to myself and my two sisters. We were all baptised, later confirmed and married at St. Mary's. My two children were baptised at St. Mary's in 2000 and 2004 respectively, when they were each just six weeks old.
I am now one of the leaders in our Sunday School and teach the Sunbeams who are aged between 0 and 4 years. My own faith, hope and love have grown from the love which has been shown to me, both from my parents and from the Church. The spirit of this Church is one of welcoming all generations, of being part of a Community and of being accessible to everybody.
I celebrate the Church community which has passed through generations of my family, as it has passed through many other families in our congregation. We take forward the gospel baton of hope and love into the future with confidence, to hand the faith through to the next and future generations.
Kate Gould - May 2006