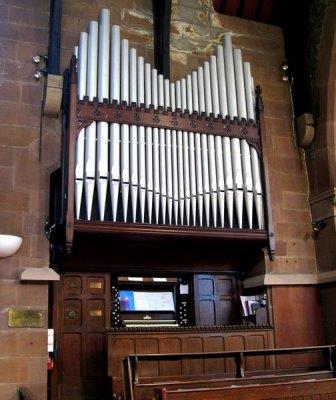 Introduction
St. Mary's is fortunate to possess a fine traditional organ well suited for accompanying hymns.
The organ was originally purchased second-hand in 1895 for the sum of £271. 10s. 6d, which included installation. The original location of the organ is not known.
The organ as originally installed was hand pumped and in 1939 it was electrified by the choir as their jubilee effort, there is evidence to suggest that the organ was also overhauled at this time. The organ was overhauled in 1966 and again in 2007.
Following a visit to this church in 2007, to assess the current state of the organ, the builders Nicholson (of Malvern, Worcestershire) commented: Wadsworth & Brother of Manchester built the organ around the turn of the twentieth century. Wadsworth organs were of a very high quality and were particularly robustly constructed. Many were supplied to non conformist churches and nearly all have disappeared or been vandalised. It was therefore particularly refreshing to find an example in St. Mary's church that has survived largely intact and has been well cared for over the years. The most significant alterations appear to have been made about 40 years ago: the original swell bourdon (16 ft) was replaced by a nazard (22/3ft), whilst the present (great ffteenth (2 ft) almost certainly replaced a reed stop ( probably a clarinet, but possibly a trumpet). The action is highly responsive and particularly good for playing baroque music, though the manuals are very heavy when coupled together. Not surprisingly, however, the instrument is most suited to english music written in the late nineteenth to early twentieth centuries.
Organ Renovations - 2007
Arising from a mechanical fault within the organ and following discussions with the diocesan organ advisor, it was considered that more extensive work than originally intended should be carried out on the instrument.
This resulted in the organ being thoroughly overhauled and at the same time making certain changes to the registrations.
A 8' trumpet and a 2 rank mixture have replaced the oboe and the nazard respectively.
On the other hand, the changes have now given the organ greater strength when accompanying a congregation.
The pedal department has now benefited from this also through the swell to pedal coupler, thereby giving access to the swell trumpet when stronger support is required.
Although St Mary's is not a large church building, the changes have remedied any shortcomings which might have existed.
The work was finally completed in September 2007, some seven or so years after the work was first mooted.
Technical Details
| | | | |
| --- | --- | --- | --- |
| Great Organ | Swell Organ | Couplers | Pedal Organ |
| 8 Large Open Diapason | 8 Open Diapason | Swell Octave | 16 Bourden |
| 8 Clarabella Flute | 8 Rohr Flute | Swell to Great | 8 Bass Flute |
| 8 Dulciana | 8 Voix Celestes | Swell to Pedal | |
| 4 Principle | 8 Salicional | Great to Pedal | |
| 4 Flute Harmonica | 4 Salicet | | |
| 2 Fifteenth | 2 Mixture | | |
| | 2 Fifteenth | | |
| | 8 Trumpets | | |
| | Tremulant | | |