h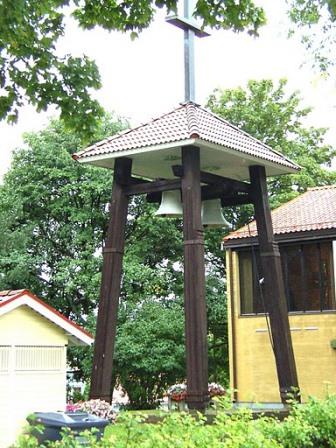 The Diocese of Manchester has a formal ecumenical partnership with the Lutheran Diocese of Tampere in Finland. This has grown under the Porvoo Agreement, by which the Anglican Churches of Britain and Ireland share full mutual recognition with the Nordic and Baltic Lutheran Churches.

Tampere, 'the Manchester of Finland', and our own city have much in common. Both were cradles of the Industrial Revolution and centres of the textile industry, with a strong entrepreneurial spirit. But both have seen the collapse of their traditional industries, and are now re-inventing themselves successfully as centres of research, innovation, education and tourism. Nokia is not just the name of a world-famous company but also of the town near Tampere where the company began.
There is much that we can learn together. The partnership builds on existing relationships, many Finns training as deacons have done placements in Manchester through the William Temple Foundation, and there are already school, higher education and business links with Finland. Now our Diocese is involved as well. That does not mean the partnership is only for bishops and the dioceses' senior staff. They have laid a foundation – but its real value is seen in what ordinary people in our parishes and youth groups build upon it. The partnership began in 2004, and the formal partnership agreement was signed in 2007.

A Message from the Bishop of Tampere
On 7th October 2007 Bishop Nigel and the then Bishop of Tampere, Rt Revd Juha Pikhala, signed a Partnership Agreement in both English and Finnish in a service of celebration in Manchester Cathedral.

Bishop Juha has now retired, and Dr Matti Repo (who is well known to St Mary's) was elected as his successor. His consecration as Bishop of Tampere took place on 1st June 2008, and one of those who shared in the act of consecration was our own Bishop Nigel.
Bishop Matti writes: "Roughly a week ago the Bishop of Manchester laid his hands on me together with other bishops in the Porvoo Communion. However, my consecration in Tampere was by no means the only visible sign of our communion as dioceses. Apart from episcopal visitations, our unity is highlighted in sharing resources, experience and knowledge in joint study programmes, parish visits and clergy exchange. For example, a long term study initiative, the 'Urban Theology Project', has been launched in order to enhance our common mission of heralding God's kingdom in our postmodern, multicultural society."

Partnership with Tampere – 'Finland's Manchester'
The diocese's ecumenical partnership with the Lutheran Diocese of Tampere, Finland, is really taking off. The Porvoo Agreement between the Anglican Churches of Britain and Ireland and the Nordic and Baltic Lutheran Churches enables them to work together closely. In 2007 the Bishop of Manchester signed a partnership agreement with the Church of Finland.
The agreement allows clergy from Finland to take services in Manchester and clergy from Greater Manchester to lead worship in Finland. It also allows church members to swap resources and cultural experiences.
The Rt Revd Nigel McCulloch said; "For a number of years parishioners and clergy from Finland and Greater Manchester have been visiting and learning from each other. There have been a number of youth exchanges and our clergy have studied in Finland. This agreement is a sign that, in Christ, we are all one."
The Bishop of Tampere, The Rt Revd Juhu Pihkala, signed the agreement on behalf of the Evangelical-Lutheran Church of Finland. The Bishop's home city is Tampere in Western Finland and is in the second most important urban area in the republic after Helsinki.
Like Manchester, Tampere grew on the profits of textile industry and today finds itself as a centre of the IT industry. It has two famous sports teams: Ilves and Tappara, although the game is not football, but ice hockey!

Partnership visit of the Parish of Harmala to St Mary the Virgin – August 2009
I am sure that many of you will have very happy memories of the recent visit of our friends from our linked parish of Harmala in Finland. The week of their visit was notable for many things including the fellowship and friendship that developed not only with our Finnish friends but also amongst our own congregation.
Our friends were able to join us for a variety of services; Compline, Evensong and Family Eucharist on the Sunday and service on the Thursday evening when the partnership agreement between the 2 churches was signed.
Social events were many and varied and included a fish and chip supper, a tour of Manchester, a visit to Quarry Bank Mill, a visit to the Imperial war museum, Manchester United museum and tour, a barbeque and meals at the homes of some of our congregation.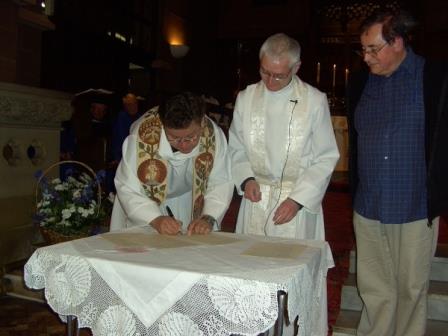 At the service when the partnership agreement was signed, our parish was invited back to Harmala in 2011. This may seem a long way off but time goes very quickly. Obviously, it is too soon to have any firm details, but it is anticipated that we will go late July / early August. Such is the enthusiasm for this return visit we now have a waiting list of people who would like places on this trip.
Yvonne Mackereth