Sweet Rhythm Big Band
Just occasionally in life something special and unexpected happens. This was just such an occasion.
The Band were enquiring about the possibility of performing at one of the "Music at St Mary's" events
and we unexpectedly found ourselves being considered for the position of "Band in Residence" for
St Mary's Church. We were extremely fortunate in subsequently being appointed to this position
effective from 1st January 2017.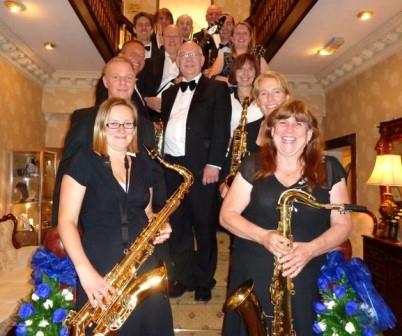 Sweet Rhythm began in 1989 under the musical direction of John Crosdale, who worked for
Trafford Education Committee but who saw a "gap in the market" and founded a dance band
for young musicians. This gave children the opportunity to play and enjoy music from the great era
of the Big Bands.
The Band has now been together for over twenty-five years and the children have grown up.
Sweet Rhythm has become an established fifteen-piece Big Band playing music which ranges from
traditional Big Band numbers and "Strictly Ballroom" favourites to recent hits. We have played for
weddings, birthdays, anniversaries and corporate events in some of the most prestigious venues in the
Greater Manchester area, but also for much more intimate events in marquees in people's back gardens.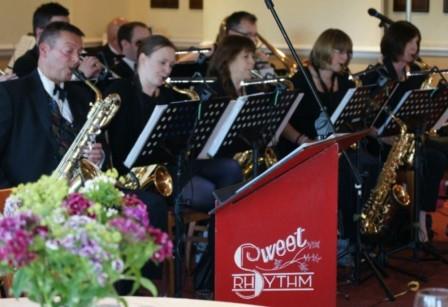 Sweet Rhythm is a not-for-profit organisation. The Band members are all enthusiastic amateurs and do not benefit financially from our performances; any fees received are used to pay the Band's overheads and the remainder is then donated to charity. In addition to our own fundraising activities for local and national charities, we have also supported community groups, churches and local charities with their fundraising events.
Our objectives are to raise funds for charitable organisations, to encourage musicians of all ages to learn an instrument and to promote the Big Band genre of music. We look forward to meeting you.
The Band rehearses in the Main Church on Friday evenings from 19.30 to 22.00 hrs. We are always ready to welcome new players, so give us a call.
For further information on Sweet Rhythm Big Band please contact :-
Orgtaniser: Diane Harris:
e-mail: sweetrhythm@virginmedia.com
Phone: 0161 962 8225
Mobile: 07963 789 982
Website: www.sweetrhythm.org.uk
Facebook: Sweet Rhythm Big Band
Sweet Rhythm Big Band
Contact: Diane Harris:
e-mail: sweetrhythm@virginmedia.com Phone: 0161 962 8225 Mobile: 07963 789 982
www.sweetrhythm.org.uk
facebook: Sweet Rhythm Big Band