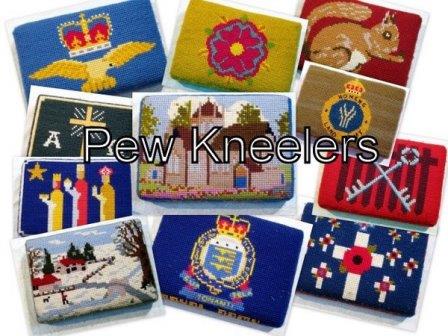 During a St Mary's parish pilgrimage to the Holy Land in 1985 the group visited the cathedral of St George in Jerusalem. One of the first things they noticed was the beautiful kneelers which had been made and donated to the cathedral by individuals and parishes all over the world.
Following on from this, Heather Sinclair (wife of the then vicar of Davyhulme), launched an appeal in the october 1985 issue of the parish magazine for families or individuals to make or donate a cross-stitch tapestry kneeler for St Mary's.
It was estimated that about 300 would be required and it was hoped to complete the scheme within two years.
There were numerous designs available – for every occasion – baptism, confirmation, marriage, in memory – or depicting the badges of scouts, guides, brownies, the services etc. The standard kneelers initially cost £12, personalised kneelers £15, from which it was hoped to make a profit to go towards the church hall building fund. The first batch of completed kneelers was dedicated at the parish eucharist on 12 January 1986.
A painting was produced by Madge Harvey from which the studio design was created for the St Mary's centenary kneeler and the prototype, worked by Ruth Earnshaw, was finished in the summer of 1986. This proved to be a popular design with twenty eventually being worked.
The scheme was completed by february 1988 with over 250 kneelers being worked and the sum of £1,000 having been raised towards the church hall fund. To quote Heather's words in the final kneeler update published in the February 1988 parish magazine: "These kneelers have not only beautified our church, but are fitting and lasting memorials to loved ones, living and dead."
Here is a full list of the pew kneelers at St Mary's :-
| | | | |
| --- | --- | --- | --- |
| No | Pattern | Donated By | Dedicated to |
| | | | |
| 1 | Stained glass | Andrew Sinclair | |
| 2 | Lily Madonna | Malcolm & Heather Sinclair | The Sinclair Family |
| 3 | 4 Seasons: Winter | | |
| 4 | Robins | Ann & Bill Sanders | |
| 5 | St Mary's Church - Centenary design | | |
| 6 | Alpha & Omega | | Alfred & John |
| 7 | Cross - Squares | | |
| 8 | Cross | | Doris 1960 |
| 9 | Poppy & Cross - Remembrance | Boswell | Mum & Dad |
| 10 | Dove | Verena Ince | George |
| 11 | World Peace | | |
| 12 | World Peace | Julia Sinclair | |
| 13 | Flowers: Summer | Evelyn Taylor | Anne Taylor (Mother) |
| 14 | Stained glass | | |
| 14 | Stained glass | | |
| 16 | Badge: Royal Air Force | | John Hornby |
| 17 | St Mary's Church - Centenary design | | |
| 18 | Flowers: Spring | Hilda & Dudley Spensley | |
| 19 | 4 Seasons: Spring | Grace Prescott | Frank C Prescott |
| 20 | Mothers' Union | Heather Sinclair | |
| 21 | Rose: White | | |
| 22 | Robins | Philip Titterington | Gaynor Julie Coppinger 1963-86 |
| 23 | Pomegranate | | |
| 24 | Cross - Lines | | |
| 25 | Flowers: Spring | | Pat & Tony |
| 26 | Rose: White | Kenneth Hepworth | Hilda M Hepworth R.I.P. |
| 27 | Dove | Margaret Platt | Arthur Pennington |
| 28 | Cross - Easter | Harold | |
| 29 | St Mary's Church - Centenary design | | Emma & Will |
| 30 | Cross - Golden | Mrs Stevens | P S Stevens |
| 31 | Cross | | D & F |
| 32 | Flowers: Spring | Joyce Salthouse | Brian & Joyce Salthouse |
| 33 | Flowers: Autumn | Harry & Peggy Ingham | Jennifer Stonier |
| 34 | Rose: White | | |
| 35 | Flowers: Spring | May Harrison | Charles Harrison |
| 36 | Stained glass | Sheila Fairhurst | |
| 37 | Cross - Patch | Mrs M J Smith | Heather Sinclair |
| 38 | World Peace | World Peace | Jean |
| 39 | Dove | H B Mansfield | Helen Mansfield |
| 40 | Flowers: Spring | Dr & Mrs R K Smalley | Andrew Smalley |
| 41 | Cross - Chalice | | Andrew R.I.P. 9/6/82 |
| 42 | Badge: Royal Navy | Tom & Amy Haycroft | "Benbows" - Lost at sea |
| 43 | Flowers: Spring | Kathleen | Roy |
| 44 | Home - Private | Austin | |
| 45 | Mothers' Union - Centenary design | Dorothy Cuthbert | |
| 46 | 4 Seasons: Spring | Andrew | |
| 47 | Rose: White | | |
| 48 | Choral | | Edward Brooks |
| 49 | Flowers: Spring | Jones Family | |
| 50 | Christmas Wreath | Edna Hughes | The Birth of Christ |
| 51 | Cross - Alpha & Omega | Sidney Pendlington | John & Nelly Hesketh |
| 52 | Badge: Royal Navy | | Alan & Viviene Brocking |
| 53 | Garland | | |
| 54 | Poppy & Cross - Remembrance | | The Fallen - 1939 - 1945 |
| 55 | Badge: Royal Navy | | Ron Bruce 1935 - 1986 |
| 56 | Dove | | |
| 57 | Confirmation | | Kathryn Brookes - May 1986 |
| 58 | 4 Seasons: Winter | | |
| 59 | Badge: Merchant Navy | | Arthur |
| 60 | Cross | | HFS |
| 61 | Choral | Brenda Scott | |
| 62 | Robins | | |
| 63 | St Mary's Church - Centenary design | Diane | |
| 64 | Rose: White | Schofield | 1901 - 1985 |
| 65 | Girl Guides | Paula & Cherilyn Cuthbert | Paula & Cherilyn 1986 |
| 66 | Cross - Squares | | |
| 67 | Badge: Royal Air Force | Lilian | |
| 68 | Cross - Golden | Ken & Kathleen Phipps | Dorothy Weal (Aunt) |
| 69 | Alpha & Omega | Betty Gregory | Alfred & Ethel Stockdale |
| 70 | Three Kings | Alan & Viviene Brocking | Robin & Giles Brocking |
| 71 | Eucharist: Host & Chalice | | |
| 72 | Flowers: Spring | Muriel James | Mr & Mrs Ryde |
| 73 | Stained glass | Mrs B Dickson | Mr N Dickson |
| 74 | St Mary's Church - Centenary design | | Karen, Mark and David |
| 75 | Stained glass | Mrs Rose Mills | Mr Tom Mills |
| 76 | Dove | Rose Mills | |
| 77 | Scouts | | |
| 78 | Scouts | Ian & Shirley Artus | |
| 79 | 4 Seasons: Summer | | Philip |
| 80 | Fish | | Pat, Mark & Michelle |
| 81 | St Mary's Church - Centenary design | | |
| 82 | Flowers: Summer | | |
| 83 | Cross - Chalice | Margaret Kirkham | Nathan & Laura Kirkham |
| 84 | Flowers: Spring | Mrs Joan Smith | |
| 85 | World Peace | Pat Crewdson | |
| 86 | Mothers' Union Centenary | Mothers' Union | St Mary's Centenary |
| 87 | Flowers: Summer | | |
| 88 | Harvest Festival | Mrs B Marsden | |
| 89 | Paschal Lamb | Elizabeth Yorke | Wilfred Yorke |
| 90 | St Mary's Church - Centenary design | Denis Cuthbert | |
| 91 | Cross - Easter | Eric & Beryl Travis | Mrs M E Bradburn |
| 92 | 4 Seasons: Autumn | Madge Harvey | CF 40th Anniversary - 1987 |
| 93 | St Mary's Church - Centenary design | | Jack |
| 94 | St Mary's Church - Centenary design | | |
| 95 | Crossed keys | Joyce Austin | E Whitehouse |
| 96 | Badge: Merchant Navy | Sidney Pendlington | Sophia Pendlington |
| 97 | Cross - Patches | | George 1914 - 1981 |
| 98 | Cross - Jerusalem | | 1985 Parish Pilgrimage |
| 99 | 4 Seasons: Summer | The Brookes Family | Robert Brookes |
| 100 | Wedding | Alan & Marjorie Greenlees | Wedding Blessing 3/4/1985 |
| 101 | Cross - Chalice | Albert & Mavis Carolin | Nicola A Robinson |
| 102 | Bell | Mai Standring | John Standring 1907 - 1976 |
| 103 | Pomegranate | | |
| 104 | Cross - Chalice | | James Cooper 29/12/85 |
| 105 | Wedding | Shirley & Ian Artus | Sue & Andrew Davey |
| 106 | Squirrel | | |
| 107 | 4 Seasons: Autumn | Joyce Rutherford | Leonard James Rutherford |
| 108 | Dove | | Wilfred Yorke |
| 109 | Prince of Wales Feathers | A M & A J Davis | |
| 110 | St Mary's Church - Centenary design | | Elizabeth Yorke |
| 111 | Agnus Dei | | |
| 112 | St Mary's Church - Centenary design | | |
| 113 | 4 Seasons: Summer | Joyce Rutherford | Leonard James Rutherford |
| 114 | 4 Seasons: Winter | Joyce Rutherford | Leonard James Rutherford |
| 115 | 4 Seasons: Autumn | | Jennifer |
| 116 | Badge: Royal Navy | | Harry 1916 -1986 |
| 117 | Three Fishes | Ian & Shirley Artus | 26th July 1958 |
| 118 | St Mary's Church - Centenary design | Madge Harvey | Jane Harvey (nee Mosedale) |
| 119 | Rabbit | | M Nash-Eaton - Grandma |
| 120 | Mothers' Union Centenary | Mothers' Union | St Mary's Centenary |
| 121 | Wedding | | |
| 122 | Cross - Celtic | Gordon Murray | Ernest & Constance Murray R.I.P. |
| 123 | Flowers: Spring | Beryl Murray | Daughter Debbie R.I.P. |
| 124 | Cross - Golden | | Pat & Pete |
| 125 | Cross | | H J & D |
| 126 | Confirmation | Vera Forster | Vera Forster |
| 127 | Flowers: Summer | | |
| 128 | Badge: WAAF | Vera Forster | Friends in the WAAF |
| 129 | Badge: British Legion | Vera Forster | Urmston British Legion |
| 130 | Dove | Pat Westbrook | Penny Westbrook |
| 131 | Angels | Andrew & Elizabeth Travis | Adam Christopher Travis R.I.P. |
| 132 | Masonic | Eric Travis | Davyhulme Lodge |
| 133 | Rabbit | | Geraldine Woodall 1967-1987 |
| 134 | Garland | | |
| 135 | World Peace | Fiona Jones | Ros & Alex Sims & Family |
| 135 | Wedding | Cyril & Nellie Hammond | 48 years of marriage - 1986 |
| 137 | Rose & building | Nora Watson | |
| 138 | Mothers' Union - Manchester Diocese | | |
| 139 | Flowers: Winter | | |
| 140 | Cross - Alpha & Omega | | Elsie & Douglas Moss |
| 141 | Cross | St Mary's Sunday School | Miss Joan Golding |
| 142 | Choral | | |
| 143 | Cross pattern | | |
| 144 | Flowers: Spring | Christine Baguley | Denys Baguley R.I.P. |
| 145 | Cross pattern | | |
| 146 | Confirmation | | Jack, Joyce & David Buswell |
| 147 | St Mary's Church - Centenary design | Margaret & Warren Bradley | Marriage of Tracy & John |
| 148 | Alpha & Omega | Heys Family | William & Ethel Heyes |
| 149 | Flowers: Summer | | |
| 150 | Cross - Glory | Sonja Peters | John Michael Peters R.I.P. |
| 151 | Rose: White | | |
| 152 | Scouts | | |
| 153 | St Mary's Church - Centenary design | | Cilla, Sidney, Mike & Doreen |
| 154 | Rose: Red | Geoff Timms | Lancashire |
| 155 | Dove | Hilda Baker | |
| 156 | Flowers: Spring | | |
| 157 | Stained glass | | |
| 158 | Garland | Linda Topping | Grandparents: H D & F Bates |
| 159 | Prince of Wales Feathers | Muriel James | The James Family |
| 160 | Cross - Celtic | | |
| 161 | Dove | Keith, Christine & Steven Madden | |
| 162 | Rose: Christmas | Laura Johnson | Jim Johnson |
| 163 | Roses: Red & White | F Rosalie Halls | Charles Halls 1939 - 1985 |
| 164 | Names | Arthur Bailey | Ena M Bailey R.I.P. |
| 165 | St Mary's Church - Centenary design | | |
| 166 | Flowers: Spring | Harry & Margaret Ingham | Emma Stonier |
| 167 | Rose: White | | |
| 168 | Badge: Royal Air Force | Verena Crossley | Stuart Crossley R.I.P. 1986 |
| 169 | St Mary's Church - Centenary design | Susan & John Carolin | Mavis & Albert Carolin |
| 170 | Badge: Royal Air Force | Yvonne Mackereth | Charles & James Mackereth |
| 171 | School - Teacher & children | | St Mary's Sunday School |
| 172 | 4 Seasons: Spring | Hardman Family | Melanie |
| 173 | Churchwarden: Vicar's | Betty Gregory | John H Gregory R.I.P. |
| 174 | Churchwarden: People's | Ian & Shirley Artus | |
| 175 | Wheat | | |
| 176 | Dove | Elsie Bell | Mollie Estill R.I.P. |
| 177 | Badge: Royal Army Ordanance Corps | Ken Phipps | Fallen Comrades 1939 - 45 |
| 178 | Flowers: Spring | Albert & Mavis Carolin | John & Susan Carolin |
| 179 | Cross - Easter | Mr Nash-Eaton | Marjorie |
| 180 | 4 Seasons: Winter | Mai Standring & Sheila Jones | Terry Standring (3 months) |
| 181 | Girl Guides | 3rd Davyhulme Guides | |
| 182 | Cross - Alpha / Omega | Frank & Elsie Firth | |
| 183 | Squirrel | Joyce M Austin | Confirmation: M J Austin |
| 184 | Crossed Keys | Verena Ince | St Mary's Church |
| 185 | Harvest Festival | Vera Blezzard | William & Belle Travis R.I.P. |
| 186 | Christmas Wreath | Muriel Williams | Winifred & William Stokes |
| 187 | Flowers: Winter | Edna Hughes | The Birth of Christ |
| 188 | Dove | Mrs Elizabeth Yorke | Mary L Church |
| 189 | Flowers: Winter | Kathleen Anderson | Roy Bucklow |
| 190 | World Peace | Mrs L Roswell | |
| 191 | Agnus Dei - Paschal Lamb | Mrs E Gradwell | St Mary's Church |
| 192 | 4 Seasons: Autumn | | |
| 193 | Badge: Royal Air Force | Sheila Fairhurst | Fred Fairhurst R.I.P. |
| 194 | Flowers: Spring | Diane Phipps | St Mary's Church |
| 195 | Choral | Sidney Pendlington | His parents |
| 196 | Squirrel | Matthew Sanders | Mark & Matthew |
| 197 | Flowers | F Rosalie Halls | Joseph Brown |
| 198 | Confirmation | | Emma |
| 199 | Girl Guides | 2nd Davyhulme Guides | |
| 200 | Dove | | |
| 201 | 4 Seasons: Spring | Joyce Rutherford | Leonard James Rutherford |
| 201 | Stained glass | Gwen Smith | Revd F L & Mrs E Sewell |
| 203 | Choral | Jenny & George Herbert | |
| 204 | Wedding | Mr & Mrs Rawlins | Rebecca & Andrew July 1987 |
| 205 | Wedding | Mr & Mrs Rawlins | Dr Martin Andrew July 1987 |
| 206 | Cross & Chalice | Rachel Webb | Janet & Roger Webb |
| 207 | Flowers: Winter | Barbara Miller | Emily Plant 1912 - 1983 |
| 208 | Girl Guides | Cath Driver | Joan Golding 1923 -1986 |
| 209 | Cross & Flowers | Steve & Janet | Wedding: 7/04/1990 |
| 210 | Cross & Hand | Nora Watson | Thomas & Anne Yorke |
| 211 | Alpha & Omega | | |
| 212 | Choral | Verena Crossley | S Crossley (Organist) R.I.P. |
| 213 | 4 Seasons: Spring | | |
| 214 | Badge: Women's Land Army | | |
| 215 | Dove | | |
| 216 | St Mary's Church - Centenary design | | Arthur Royle 1908 - 1973 |
| 217 | Remembrance: Poppy & Cross | M Lowe | My father |
| 218 | Crossed Keys | Sheila Barker | |
| 219 | 4 Seasons: Winter | Hardman Family | David |
| 220 | Brownie Guide | Susan May Lowe | Miss Joan Golding R.I.P. |
| 221 | Cross - Alpha & Omega | Jo Newton | Mother |
| 222 | Duke of Edinburgh Award | The Beech Family | Joan Golding 1923 -1986 |
| 223 | 4 Seasons: Autumn | Ida Whitehouse & Brenda Timms | Harry Whitehead 1912-1986 |
| 224 | St Mary's Church - Centenary design | Barry & Linda Davies | John Davies |
| 225 | St Mary's Church - Centenary design | Joyce M Austin | J V & P M Austin |
| 226 | Rabbit | David & Fiona Jones | Christopher Paul Jones |
| 227 | The Nativity | A F & T Brocking | Frank & Jean (Parents) |
| 228 | Stained glass | | |
| 229 | 4 Seasons: Autumn | | |
| 230 | Flowers: Spring | Clifford Nash-Eaton | Marjorie Nash-Eaton |
| 231 | Remembrance: Poppy & Cross | Muriel Horridge | |
| 232 | Christmas tree & Family | Bob & Christine Brookes | Melanie |
| 233 | Cross & Chalice | Albert & Mavis Carolin | Caroline E Robinson |
| 234 | Dove | Judith Cooper | Edith & Harry Palmer |
| 235 | Badge: Royal Artillery | Mrs Eve Peters | Lewis Peters |
| 236 | Flowers: Winter | Keith Axton & Jennifer Hardman | To their mother |
| 237 | 4 Seasons: Summer | Hilda Baker | Ross Broady |
| 238 | Eucharist: Host & Chalice | Nora Watson | Robert Watson |
| 239 | Agnus Dei: Lamb & Cross | Jean Broady | Hilda Baker |
| 240 | Confirmation: Hand & Cross | | VJC 1985 |
| 241 | Remembrance: Poppy & Cross | The Beech Family | William Marsland |
| 242 | Dove | The Ellis Family | St Mary's Congregation |
| 243 | St Mary's Church - Centenary design | | |
| 244 | Confirmation | | Caroline |
| 245 | Mothers' Union Centenary | | |
| 246 | Agnus Dei - Lamb & Cross | Revd & Mrs J M Sinclair | St Mary's Church |
| 247 | Baptism: Cross & Font | Baptism | Carolyn 22 April 1985 |
| 248 | Cross: Alpha & Omega | Hayeswater Methodist Ch. | Church Unity |
| 249 | 4 Seasons: Winter | | TGW & ARD 29/12/1962 |
| 250 | 4 Seasons: Spring | | |
| 251 | Cross & Flowers: Easter | | Albert Barlow |
| 252 | St Mary's Church - Centenary design | | Kathleen Davies |
| 253 | Canada: Maple Leaf | | Marion Brown 1900 - 1987 |
| 254 | Cross patches | | Arthur Copeland |
| 255 | 4 Seasons: Autumn | Denis Cuthbert | |
| 256 | Scouts | | |
| 257 | Stained glass | Harry & M L Ingham | George Pringle (Verger) |
| 258 | Golden Cross | Georgina Bould | Revd W Bould (Vicar) |