FRANK MOSEDALE
1897 – 23rd July 1917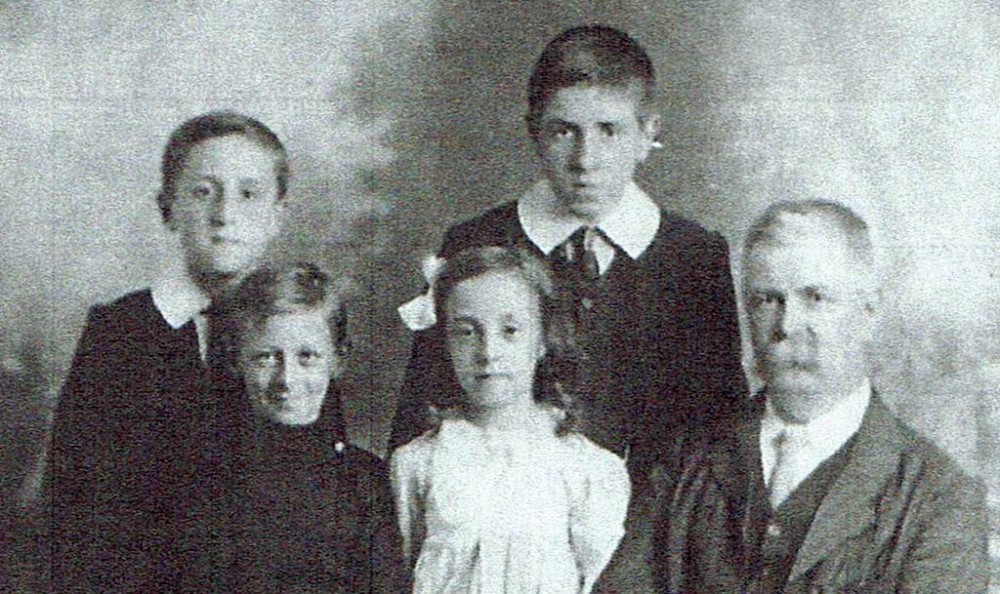 Thomas Mosedale with his children (R to L), Frank, Flossie, Harry, Thomas
Frank was born in 1897 in Davyhulme.
His parents were Thomas born in 1868 in Eccles, who was a bricklayer and Mary Florence Miles born in Crewe in 1866.
Mary died in 1935 and Thomas in 1946, they are buried in St Catherine's churchyard, Barton.
Frank had 3 siblings:
Thomas 1896 - 1938
Harry 1900-1978
Florence Annie 1902 - ? died Port Elizabeth, South Africa.
In 1901 Frank was living in Crofts Bank Road and the 1911 census records him at Brook House, Crofts Bank Road. His Aunt Jane was also living at this address she was an Elementary School Teacher and was on the staff of St Mary's School. Jane married William Harvey and their Daughter Madge was born in August 1918. Jane died in a flu epidemic in 1927.
Frank joined the 2/7th Battalion of The Manchester Regiment, service number 277066. He was Killed in Action on 23rd July 1917 in the Western European Theatre.
He is buried at Koksijade West Flanders, Belgium.
He was awarded the Victory and British Medals.
He is remembered with honour at the Coxyde Military Cemetery.