Junior Church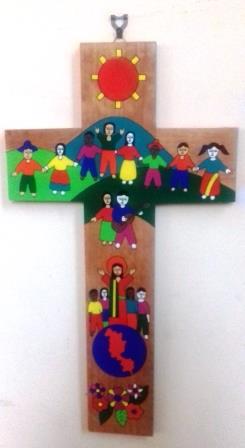 Sundays 10.30 to 11.45 email : juniorchurch@stmarysdavyhulme.org
tinies to teens
Leaders: Junior Church leaders on rota
At St Mary's we have a dedicated group of people running Junior Church.
We start our Sunday morning sessions by leaving the 10.30 am service during the children's hymn, marching to our instruments, (not always in time or tune! - you may notice!!). We then meet in the main hall for a song, a short talk, prayer and collection and before splitting into our special groups.
Leaders and helpers teach them about God, Jesus and the Bible through various activities such as stories, craft, play, games etc. The very young pursue more play/craft activities, whilst the school age children complete short readings or puzzle sheets together with craft activities to develop their understanding of the Bible and Christian life. We all re-join the main service to take the Eucharist when they also take up their special offertory collection. They all have items to take home and share with their families as well as sharing them with the clergy and the congregation towards the end of the service. We have access to baby toys and a play mat for the very youngest. In the main church we also have toy bags/ books and colouring folders. Please ask the sidespeople.
We follow the lectionary themes so the activities are closely linked to the Church services and festivals. They are encouraged to get involved in what is going on at that particular part of the church year, eg. showing their work to the congregation, making banners, streamers, doves, prayer booklets, crosses candles or dressing up as the 'wisemen'. Thus making them feel more of a part of the church community.
At Family Eucharist they sometimes help with readings and intercessions. At the end of each service an older child reads a short passage as we have a blessing and the service closes. The congregation then gather in the Church Hall for refreshments.
Our pleasant and efficient 'sales staff' are at work on the 'Fair Trade' stall most Sundays after the 10.30 service, made up of mostly the older Junior Church members. (We have to start them out as ' Business Entrepreneurs' as early as possible!). Ian and Shirley, Liz and the children would like to take this opportunity to thank you for regular custom.
We would ask everyone in the congregation at St. Mary's, Davyhulme, to continue to pray for all of the children and their leaders, as this work is so important in the future spiritual development of the children and indeed the church.
Telephone Fiona on 0161 748 8554 juniorchurch@stmarysdavyhulme.org or come along on Sunday at 10.30 a.m. and get to know us