Latest News
Latest news
21st May
10.30 CONFIRMATION
BAPTISM AND FAMILY EUCHARIST
What a special day in the life of our congregation, our faith and all those baptised and confirmed. Our Congregation, family and friends shared in a very special Eucharist Confirmation service by Rt Revd Mark Davies Bishop of Middleton for 15 adults and young people.
22nd May
Deanery Service 'A New Way Of Being' A thanksgiving dementia awareness service was held . The preacher was The Venerable Cherry Vann. The Mayor of Trafford attended together with representatives of Age UK Trafford, The Revd Alex Clephane Area Dean of Stretford.
Many of our Deanery churches were represented and we gathered for refreshments afterwards.
7th May
Today at 10.30 we welcomed The Sweet Rhythm Big Band to our Eucharist service. Many of our regular congregation were there and new families and individuals too. One visitor particularly commented on the friendly welcome and warm service. At the end of the service the Band played 3 pieces with vocal accompaniment which was wonderful to hear. The service ended with us all singing When the Saints go marching.... again to the bands instrumental playing. A Sunday with a difference ! Come and join us any Sunday . There wont always be a band but there will be a warm welcome.
Holy Week and Easter Sunday
HE IS RISEN INDEED! ALLELULIA!
Palm Sunday
This morning both our congregations received palm crosses. The 10.30 family service began with a procession of Palms and singing around the putside of church to start the service. While the Palm Sunday readings took place in Church the children shared their own reading including a Donkey Hunt where they heard about the disciples trusting Jesus's instructions. Chloe gave us all instructions to find the donkeys including the special decorated one for Jesus before we heard the next part of the reading. Noah then helped to organize a donkey route after the picture and puzzles to aid our learning.
Mothering Sunday 26th March
Our congregations at services today at 9 a.m. and 10.30 received cards and a daffodil to remember mums on this special day. At 10.30 a mum read our opening welcome, mum and daughter read the intercessions; a teenager read one of the lessons; a Mum and daughter took the elements; our young children helped to hand out cards and daffodils; a brownie read the closing gospel. A Junior church leader led the sermon helped by enthusiatic chiuldren helping with the props. A wonderful all age service.
Play and stay art.....Monday afternoons 1.30 till 3pm in the church hall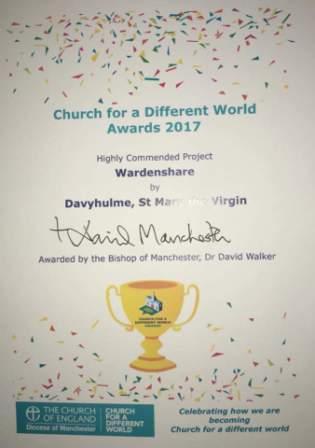 Candlemas all age family service
Sunday 29th January 10.30 a.m.
A lovely all age service was shared this morning which culminated in the lighting of candles and prayers as our Church Year moves from the Crib to the Cross and we take our faith out into our communities through Lent and into Easter.
Thursday 26th January
Our three visitors from Tampere, Finland visited our school, talked with a class in church and then shared lunch in the Hall. We enjoyed sharing our church life experiences and hopes for the future in our communities. Families and football were shared too.
Christingle service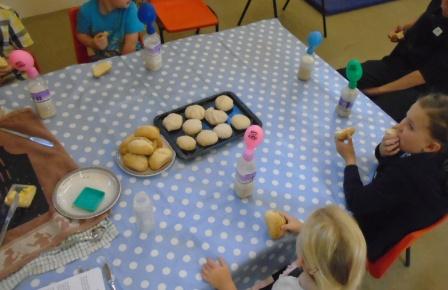 with St mary's School 12th January 2017
This morning we all gathered in church for our Christingle service with the school including around 40 parents and carers. We all shared in Christingle songs and listened to a sermon by Canon Chris who told us about Alan Bean looking at the earth from the moon. Colin Driver talked to us about our money helping the Childrens Society. Children representatives read prayers and finally the children very quietly and carefully made a line of christingles in the shape of a cross along the aisles.
Junior Church activity
Here is a photo of one of our many activities organised by our leaders and enjoyed by 6 children and their adults on 23rd November.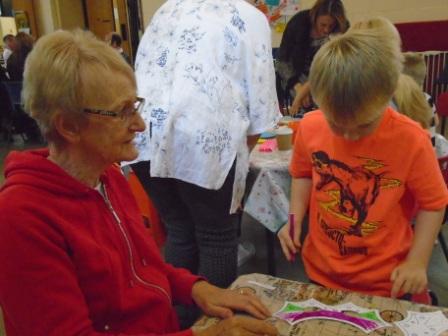 Play and Stay Craft
Each Monday we have crafts story rhyme time and lots more. Here are some of our craft pictures.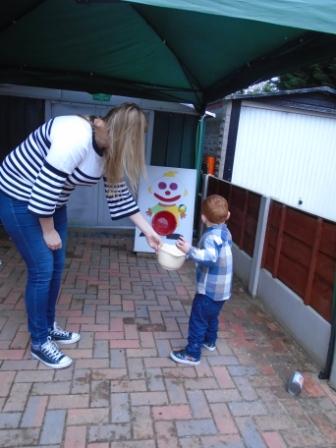 Junior Church
During August we had a regular attendance of children at our 10.30 Sunday service. Numbers ranged from 3 to 15! The children enjoyed games and crafts based on bible stories and shared their craft work with the congregation. Many thanks to our team of leaders for all their organisation.
Ella, who is one of our young members, designed an invitation leaflet that is now available to give to new families and with our baptism anniversary cards.